Web Server Control Panel also known as Hosting Control Panel or Web Control Panel is a type of web-based interface that allows administrators or users to control and manage their hosted website or application in a server. The main purpose is to simplify the process of managing and integrating different software applications that are required to provide web hosting services.
The user interface is specifically designed to control, manage and monitor a set of different programs or modules that are put together to run various operations include admin and clients access, web server, sites management, database, DNS server, mail server, FTP server, resource usage or statistics and much more.
These are Free Web Control Panels as an alternative to cPanel that are popular and most used include Centos Web Panel, Webmin, Froxlor, VestaCP, ISPconfig. All of them can be used to manage your VPS Hosting, Cloud VPS or even dedicated server and they have a good documentations. The user interfaces are simple, easy to use and to understand, which can help developers, designers or others even for beginner to interactively manage the environment of their web project.
They are Open Source softwares and you can install or try them on your Linux server through a remote desktop access or terminal easily instead of paying a license or paid version that is expensive such as cPanel or Plesk. This can be the best option for your Virtual Private Server and feel the experience.
Here are 5 Best Free Web Server Hosting Control Panel:
CentOS Web Panel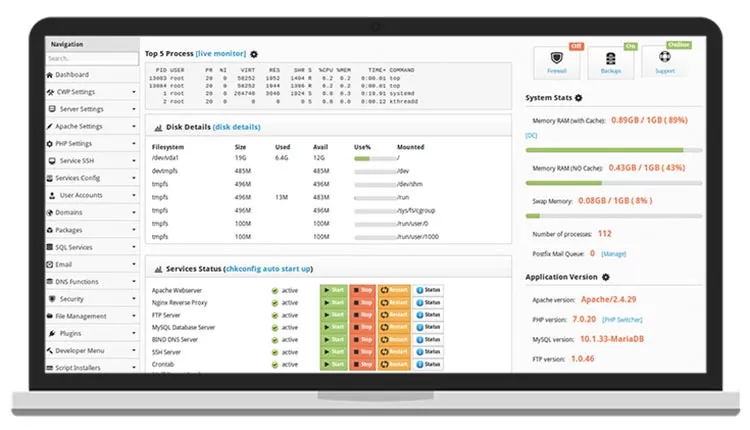 CentOS Web Panel also known as CWP, which is one of the Best Free server control panel. It is designed for VPS and Dedicated servers. It has a good User interface, Fast and easy management for your virtual private server and offers a huge number of options and features in its control panel package. This include User Management, Web Server, PHP, DNS, email, Free Auto SSL or Let's Encript, Security, MySQL Database, and you can also install additional custom software such as Softaculous that integrated into CWP. This Control Panel runs very well on various Linux operating systems especially for CentOS, RedHat and CloudLinux. It is recommended to use CentOS 7.x with minimum system requirements 1 GB of RAM and 10 GB Disk Space for 64-bit operating system.
CentOS Web Panel is one of the best options and solution for your VPS when you use CentOS operating system. The installation is easy, fast and straightforward with a few lines of codes in Linux command or SSH, but it takes some time due to the downloading of dependencies and that is about 5-10 minutes. This Server Control Panel is not fully open source, but aside from Free Version which is already good enough to use, there is also CWPpro with a cheap price that comes with full functionality. The best from all of CWP features is a Powerful Web Server that can runs for selected options that include Apache, Apache+Nginx, Apache+Nginx+Vanish, LiteSpeed, and they are all work perfectly.
Webmin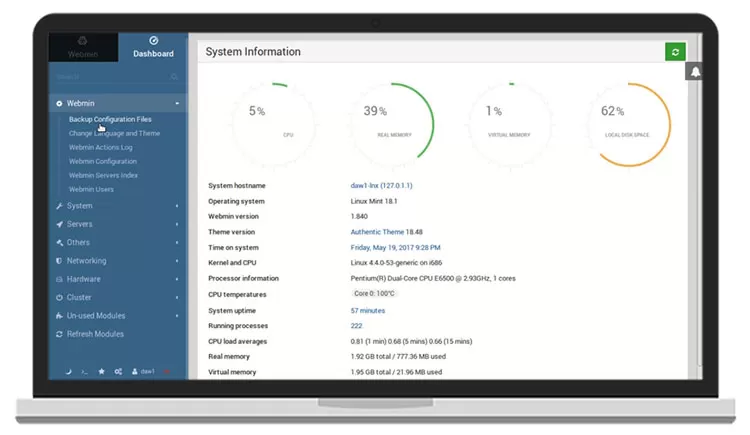 Webmin is an open-source hosting control panel that simplifies the process of managing a Linux or Unix system. It supports dozens of Linux distributions. This is a web-based interface under BSD-like licence for system administration, which you can use on any browser that supports tables and forms. It means this control panel freely distributed and modified for non-commercial use and even commercial use. It consists of a simple web server, and a number of CGI programs which directly update system files, while there is also Authentic Theme to make the user interface look a little prettier and modern, and maybe a bit easier for managing as well.
Webmin has the most feature-rich options including modules for configuring server services. This can leverages your web browser to help and configure user administration, Apache, DNS, file sharing, backups, user administration, web servers, cron jobs, mail servers, and much more. The best supported operating systems at the moment are Solaris, Linux (Redhat in particular) and FreeBSD, while it also works on many other type of Linux OS such as Debian, CentOS and Ubuntu. There are also some repositories available or large variety of installation sources exist for integration with your distribution's package manager.
Vesta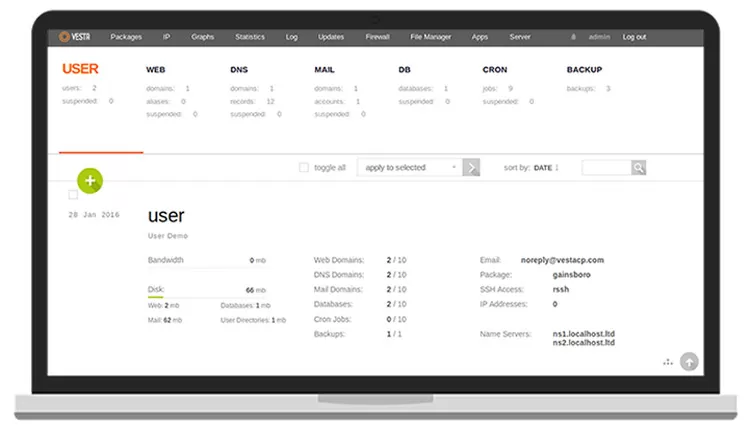 Vesta or VestaCP also known as Vesta Control Panel is an open-source web control panel under GPL (General Public Licence) that beautifully designed in Simple, Clever and Lightweight. Which means you can change, modify and redistribute the source code by your self if you need to. The minimum VPS server's hardware requirements is only 1GB CPU, 512 MB RAM, and 20 Disk Space availabe. It uses the latest and greatest versions depending on available system resources, delivers optimized configuration and can handle thousands of traffic per day. It can be installed in a few command of lines using SSH or root access and works nicely on a RHEL, CentOS, Debian and Ubuntu server.
It has an extremely fast user interface and even faster with keyboard shortcuts, supports many languages and regions around the world. A Free features that Vesta offers are include Site Logs and Analytics, Server Stats, Backups, Firewall, DNS, Web Server, mail, Database, FTP, and more. It comes with additional software such as Softaculous that available as a FREE or a Premium Auto Installer with very low yearly price. The Free License of Softaculous has 55 scripts while the Premium one has 426 scripts so you can easely install WordPress, Joomla, PrestaShop, phpBB, or other applications available. Overall, VestaCP can be one of best option for your VPS. It is well documented and already have large community that can help you.
ISPConfig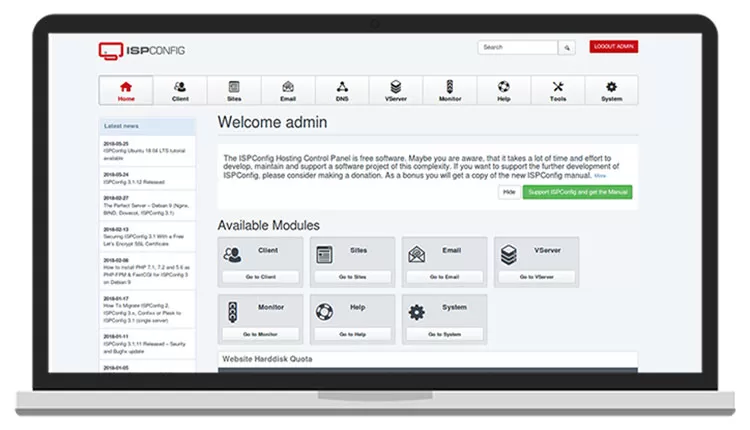 ISPConfig is an open source server control panel system under BSD license for Linux Server or VPS. It allows administrators to control servers directly through browser to manage websites. It has a well designed user interface and a unique features among the competition but it also has a complex configurations that allow users to manage multiple accounts on multiple physical server or VPS. It is stable, secure and ultra-fast with continuous development, documentation and community with support forum.
It is recommended to use ISPConfig for Debian or Ubuntu, but it also works well for CentOS, Fedora, and OpenSuSE. Like many others hosting control panel, ISPConfig has a rich features that include Websites management, User accounts , Email, FTP, MySQL databases, Cron jobs, Shell users, DNS, and more. Aside from highly reliable free control panel, ISPConfig can be slightly difficult for newbies but you can try and explore it on available Online demo, Who knows it might be best VPS control panel for you.
Froxlor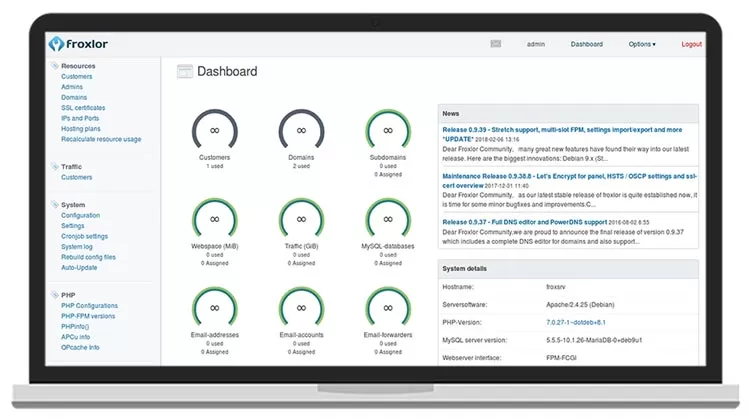 Froxlor is an open source server management panel under GPL. This is a simple and lightweight server control panel that might be fit for your need. It is well developed by experienced server administrators, simplifies the effort of managing your VPS. It has a very clean interface and similar to Webmin's Authentic Theme. It comes with commonly features that include True Multi Stack, Advanced SSL or Let's Encrypt, PHP configurations, MySQL Database, FTP, Quota management, and more.
It is recommended to use Froxlor on Linux Debian or Gentoo as it officially supported, but it seems possible with a little effort if you want to install it on other Linux Distro like Ubuntu as well. Overall, Froxlor can be good alternative to cPanel, Webmin or other types of server control panel that allow system administrators to manage their multiple websites, but you need a fairly technical knowledge to set up your web server and other services.